The range is an essential kitchen item to cook delicious meals and tantalize the taste buds with the most straightforward cooking process. You need to choose the best 30-inch ranges that fit well in a space where you plan to install them.
With the several best 30-inch ranges in the market, you must wonder which one serves the best. To help you find the right range, we have scoured through the internet and compiled the best 30-inch range reviews with a buying guide.
Read the in-depth 30-inch range reviews.
Top 30-inch Ranges Reviewed
Product Image
Product Name
Dimensions
No. of Burners
Oven Capacity
Best For
More Info
Frigidaire FFGF3054TD
Width: 29 7/8 Inch
Depth: 25 3/4 Inch
Height: 47 Inch

5
5 Cu. Ft.

Best Overall
View latest price
Frigidaire Gallery Series GCRE3060AD

Width: 30 Inch
Depth: 29 1/4 Inch
Height: 35 7/8 Inch
5
5.7 Cu. Ft.

Best free-standing electric range

View latest price
GE JGBS 30RKSS

Width: 30 Inch
Depth: 28 3/4 Inch
Height: 46 1/4 Inch

4
4.8 Cu. Ft.
Best budget-friendly gas range
View latest price
Maytag MER6600FW

Width: 29 7/8 Inch
Depth: 27 3/4 Inch
Height: 46 7/8 Inch

5
5.3 Cu. Ft.
Best spacious electric range
View latest price
Whirlpool WEG745H0FS
Width: 29 7/8 Inch
Depth: 28 7/8 Inch
Height: 36 Inch

5
5.8 Cu. Ft.
Best slide-in gas range
View latest price
Whirlpool WEE510S0FS
Width: 29 7/8 Inch
Depth: 28 15/16 Inch
Height: 36 Inch

4
4.8 Cu. Ft.
Best slide-in electric range
View latest price
GE JBS86SPSS

Width: 29 7/8 Inch
Depth: 28 1/4 Inch
Height: 47 Inch

5
4.4 Cu. Ft.
Best electric double oven range
View latest price
Bosch 800 Series HEI8056U
Width: 31 1/2 Inch
Depth: 28 7/8 Inch
Height: 36 1/2 Inch

5
4.6 Cu. Ft.
Best slide-in range
View latest price
Wolf M Series DF30450SP
Width: 29 7/8 Inch
Depth: 29 1/2 Inch
Height: 36 1/2 Inch

4
5.1 Cu. Ft.
Best Free-standing Smart Range
View latest price
Viking 3 Series RVDR33025BBFLP

Width: 29 7/8 Inch
Depth: 29 Inch
Height: 37 Inch

5
4.7 Cu. Ft.
Best dual fuel range
View latest price
Find the right 30-inch Range for you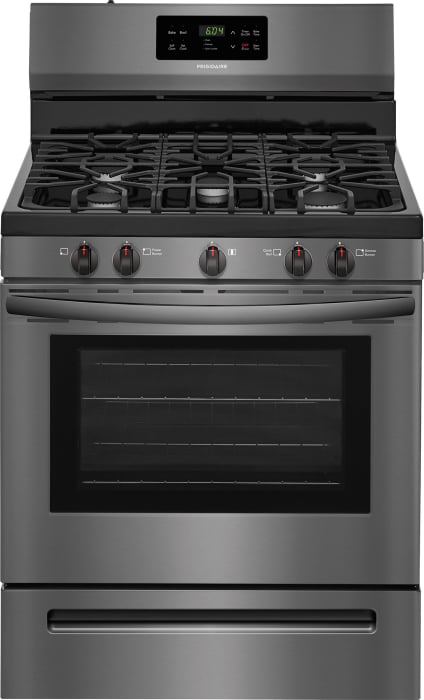 Frigidaire needs no introduction when it comes to the cooking ranges. This 30-inch, free-standing gas range comes with 5 sealed burners. It's a stunning choice to upgrade the entire look of your kitchen. The simmer burners in this range allow you to prepare delicate foods, melt chocolates, or form sauces.
Plus, if you want to cook meals faster, you can switch to the power burner in this range. It comes with a 5 cu ft capacity, to cook several meals simultaneously. It also features a storage drawer to keep the cookware organized.
What makes this range more unique is the easy cleanup and the burners, which look exceptional and pristine after months of usage.
Move your heavy pans and pots now quickly without even lifting them as this range comes with continuous corner to corner grates.
It features a quick boil to cook meals faster using a 17000 BTU burner. This range comes with an auto shut-off feature for additional safety, which switches off the range after 12 hours. Besides that, you can also select delay clean to schedule cleaning.
The control panel of this range also comes with an electronic kitchen timer of up to 12 hours.
Pros
It comes with a low simmer and quick boil.
Features auto shut-off option.
Delay clean option.
Allows immediate cleaning.
Features electronic kitchen timer.
Cons
No smart features.
No grill or griddle option.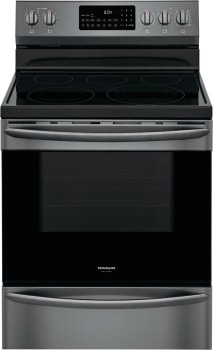 The Frigidaire Gallery Series comes with a gigantic 5.7 cu. ft capacity. It offers an Air fry mode and the right convection capacity, making your cooking process more comfortable. Indulge in the flexible cooking experience with this range that comes with variable heat cooktop elements.
The best thing regarding this range is that it comes with a delay start option and self-cleaning option to meet all your needs.
You'll fall in love with the 5 different individual elements in the range that comes with a quick boil, warming zone, 6/9/12"3 in 1 element. It easily accommodates the larger pans and pots over high temperatures.
The third heating element featured in this range offers even, consistent temperature for baking, broiling, simmering, and much more.
What makes this range ideal is an Air fry option allowing you to indulge in a healthy diet. Make crispy meals, healthy, guilt-free dishes with a breezy cleanup process.
The self-clean mode and the 30-minutes fast steam cleaning option allows easy cleaning that too without any odors or chemicals.
Not only this, it comes with a storage drawer to keep the cookware easily. Enjoy evenly cooked meals with the broil and convection bake modes. They come with a heating element plus a fan that meets all your cooking needs.
Pros
Comes with a storage drawer. 
It features an air fry mode for healthy cooking. 
Steam cleaning.
Self-cleaning option for easy cleaning. 
Triple expandable elements to put pans and pots of all sizes. 
It's quite spacious. 
Cons
Does not feature a removable door.
Does not offer induction.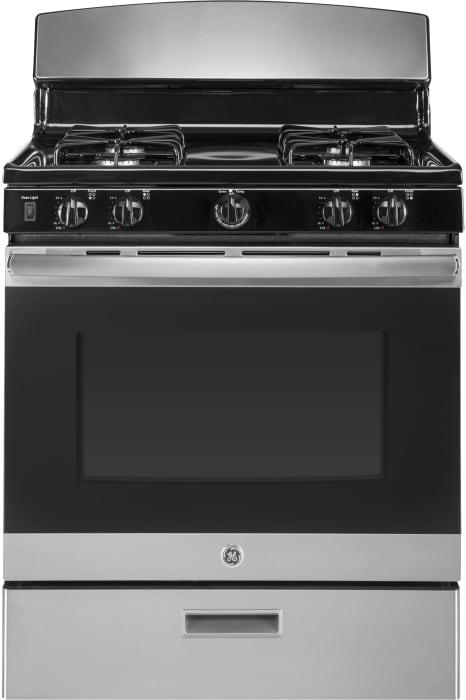 This 30-inch free-standing gas range comes with a simmer burner, which gives a perfect finish to your kitchen. It comes with four sealed burners plus a simmer burner, which allows you to prepare the sauces and foods.
It comes with a 4.8 cu ft capacity, which allows you to indulge in the preparation of several meals. The broiler drawer in this range allows you to achieve concentrated heat all over the food for a crispy look.
GE is also a brand that believes in offering top-notch appliances to buyers. They offer solutions to meet all your residential, industrial, and commercial needs. The best thing about this range is that it contains all spills allowing easy cleaning and quick removal of stains.
Enough capacity of this range allows you to cook meals at once. The black glossy steel grates will enable you to wipe off the mess from the smooth surface easily.
It also comes with a 13000 BTU burner, which gives high heat output for meeting the cooking needs. The precise simmer burner in this range also allows you to prepare delicate foods like sauces or melting chocolates.
Plus, you can visualize the entire cooking process as it comes with a clear, large window.
Pros
Effortless cleaning.
Offers enough space. 
Allows you to attain concentrated heat all over the surface. 
Comes with a huge window.
Features a simmer and high BTU burner.
Cons
Lacks stainless steel handle.
Lacks timer.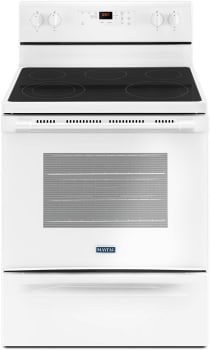 The Maytag 30-inch electric range comes with 5-element burners. Plus, it features a shatter-resistant cooktop, which is resistant to wear and tear. The stunning cooking features with the fingerprint-resistant stainless-steel design gives it a tough, sturdy look.
It comes with a precision cooking system, which allows you to cook meals evenly. There is also a self-cleaning option that eases the removal of tough food spills and messes. It comes with a 10-year limited warranty and offers enough space of around 5.3 cu. ft capacity.
Moreover, it comes with a storage drawer to store your cooking tools and cookware for easy usage. The variable broil in this range enables the best broiling results with perfect temperature to indulge in the best cooking results.
Pros
It comes with a 5.3 cu ft capacity.
Features precision cooking system. 
Comes with a hidden bake element. 
It prevents the spills and drips from falling apart. 
Offers efficient cleaning.
Cons
It's not fingerprint-resistant.
Lacks a double oven feature.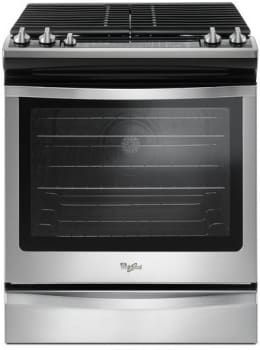 This 30-inch, slide-in gas range has 5 sealed burners to avoid any unnecessary preps for meals. The front control stove in this range fits well in your kitchen, giving a seamless look to your kitchen.
Indulge in delicious results with fan convection cooking to prepare tasty roasts and bake bread with perfect textures. It cooks the frozen foods immediately without preheating the oven as it comes with the frozen bake technology. The FIT system in this range allows you to fit it in any cutout easily.
Once you are done with cooking, you must be wondering whether it offers efficient cleaning or not? The answer is this range has the Aqualift self-cleaning feature, which helps get rid of the mess and spills immediately, without any odors or chemicals.
Whirlpool is a band that makes sure to offer stunning results and top-notch performance to the users. This range is designed to make your cooking easier and smarter.
Enjoy cooking with this True convection cooking range to cook food faster as it comes with a third element and a fan, which evenly distributes heat all over the food.
Moreover, convection conversion converts all the traditional recipes of convection cooking with automatic cooking temperature and time adjustment. So, what are you waiting for? Grab the opportunity and enjoy cooking.
Pros
No need to preheat the oven.
It comes with temperature sensors, which adjust the temperature. 
Features a hinged design that allows easy cleaning. 
The grates and the knobs are dishwasher safe. 
Easy and smart cooking experience.
Cons
Lacks hot surface indicator light.
No grill or griddle option.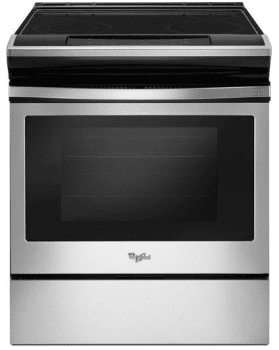 This Whirlpool slide-in range features 4.8 Cu.ft capacity and a stunning 4-burner cooktop. It structures two radiant elements with one 6 inches inner ring, which works well for small pans and pots. The other one is a 9-inch expandable outer ring, which allows you to place large cookware.
This self-cleaning range features dual racks with 5 rack positions plus the 2400 bake element.
Other than the broil and bake functions, this Whirlpool range also features frozen bake technology. No need to preheat the oven now before you bake your meals.
Whirlpool is a brand that ensures offering the best results with the use of less energy and water. They are dedicated to making your cooking smart and highly efficient.
You don't need to do any guesswork with this range as it comes with guided controls on the cooktop plus the design of the range features up/ down arrows. Select the temperature quickly and allow the heat level indicators for melting and simmering.
Don't worry about cleaning this range as it comes with an adjustable self-cleaning feature. Take care of all the spills easily from the smooth cooktop surface as it features an easy-wipe, ceramic glass cooktop surface.
It features a built-in temperature sensor, which easily adjusts the heating elements for even baking and cooking food.
The closed-door broiling feature in this range prevents the oven from overheating the kitchen, making it comfortable for you to cook in the kitchen.
Pros
Easy cooking options.
Comes with a self-cleaning option.
Features closed-door broiling.
Comes with frozen bake technology. 
Features dual radiant elements.
Cons
Not that spacious.
It lacks a grill and griddle option.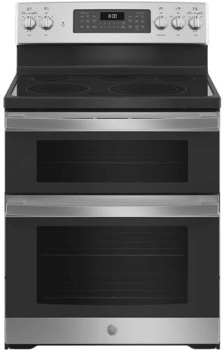 Update your kitchen's look with this range that looks stunning and allows you to indulge in a smart and efficient cooking experience.
This oven features the roast/ convection bake for adding a touch of versatility to your kitchen household, meeting all your food needs. Not only this, it comes with the five radiant elements as well that are available in various sizes and burner capabilities.
This range comes with a 6.6 cu ft. capacity, including 4.4 cu ft capacity of the lower oven and 2.2 cu ft capacity of the upper oven.
It comes with a ceramic glass smooth top, which allows you to easily wipe the spills and mess without leaving the toughest stains on the cooktop. There is a steam-cleaning option in the range, allowing easy cleaning of the range within 30 minutes, with less heat and less odor.
Keep your foods warm as it also features a warming mode. The additional features in this range include an 8-pass bake element, sabbath mode, power boil element, fast preheat, and much more.
Pros
Allows easy cleaning.
Comes with a hot surface indicator light.
Features steam cleaning.
Enjoy a smart, efficient cooking experience. 
It's quite versatile and matches well with the cooking needs.
Cons
Lacks any drawers.
Does not feature induction.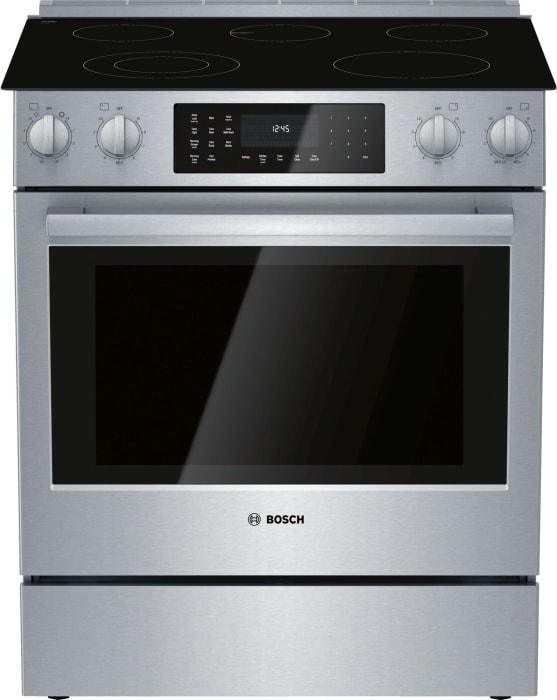 You'll get genuine European convection in this Bosch model. The stainless-steel design of this range prevents it from any fingerprints and scratches. This full-depth, electric slide-in range fits nicely into the free-standing range cutouts.
The flushed built-in look of this range and the European convention allows you to indulge in even baking and cooking on all levels.
It comes with a warming drawer, which allows you to keep the food warm and serve the food immediately once your family members are ready to eat. The Bosch brand ensures to offer robust, precise, top-notch performance with stylish products.
The best part!
Enjoy eleven different specialized cooking modes, allowing you to enjoy the gourmet cooking style with a chef like the taste.
It comes with a fast preheat option, which allows rapid heating of the oven. To enhance the range's safety and capacity, this range comes with an eight pass broil element.
Get immediate access to the range and efficiently operate the oven using the touch control of the oven. Besides that, it comes with an extra-large door window, allowing you to view the cooking process quickly.
Pros
Features eleven specialized cooking modes. 
Comes with a warm drawer. 
Enjoy gourmet style cooking. 
Allows easy operation.
Comes with touch controls.
Cons
It lacks any smart features like Wi-fi connectivity despite being expensive.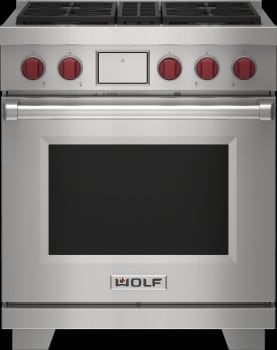 The Wolf M series free-standing comes with four dual-stacked burners. Get into the world of exceptional cooking experience to cook on the gas or electric cooktop options. It features fine control dual-stacked burners plus a French top, which allows you to indulge in the marvelous culinary experience.
The four heating elements plus dual fans will enable you to select from the massive range of ten cooking modes to choose the specific option that works well to prepare the tempting dishes.
This range features a self-cleaning technology that allows you to get rid of all the mess and spills immediately without any hassle.
With several ranges to choose from, you can select this dual fuel range, which is manufactured using stainless steel.
The aesthetically appealing design with innovative technology makes this Wolf M series dual-fuel smart range the perfect choice. This range comes with Wi-fi connectivity making the cooking process simpler and easier.
You can select modes, remotely preheat, or adjust the oven temperatures using the mobile device.
The patented gas burners offer precise high to low-temperature controls for all your cooking tasks ranging from fast boiling or simmering. This dual Verticross oven comes with a convection system that provides reliable heat all over the oven reducing the chance of cold or hot spots plus enabling multi-rack cooking.
What's more about this range?
You can easily move the pans and pots smoothly because it comes with continuous grates, which prevents any spills and mess. It also features touch screen controls that are easy to read and intuitive.
When not in use, you can also hide the panel and achieve the aesthetically appealing look of this range. Indulge in a gourmet cooking style of this range, which allows you to choose from ten different cooking modes.
Pros
Indulge in gourmet style cooking. 
10 different cooking modes.
The halo lights illuminate the knobs to show that the burners are active. 
Temperature probe for worry-free cooking.
Cons
No drawer.
Does not feature a double oven.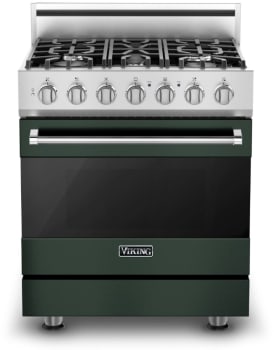 Viking allows its customers to indulge in a professional cooking experience. Viking's legendary range makes sure to turn you into a chef and offer a restaurant-style cooking experience.
This 30-inch, free-standing dual fuel range comes with 5 sealed burners engineered extraordinarily to provide an efficient cooking experience. The five-burner configuration allows you to enjoy precise control of BTUs on all burners giving you the ability to move all pans and pots seamlessly all over the cooking surface.
It features a large oven capacity and comes with fast preheat times. Enjoy immediate cooking and prepare the meals within no time for you and your family. Use this range that comes with a large convection fan, i.e., the Vari-speed dual flow convection system, which works in double directions for optimized cooking results.
It has a self-cleaning feature that leaves your ovens pristine and neat with extreme heat, which allows your range to get rid of all the spills and mess.
Besides that, it comes with the TruGlide oven racks, which features six positions allowing you to move meals on different racks. The range also comes with a sure spark ignition system, which lights each time you use the range from low to high.
Wait for less with a fast-cooking experience using the Rapid preheat system in this range. The 10-pass dual baking element offers precise control of temperature. Plus, it features a 10-pass broiler with a heat reflector, which offers stunning broiling performance to users.
Pros
Quite spacious. 
Halogen lighting for clear visibility. 
Offers immediate preheating. 
Easy cleanup.
Easy to operation. 
Safety for children. 
Cons
No smart features.
Lacks power burner.
Best 30-inch Ranges Buying Guide:
Gas Vs. Electric:
Gas ranges feature burners that emit flames. Cooking meals with gas ranges allows precise control of flame with even distribution of heat. The downside with such ranges is the instability of flame plus the leakage of gas lines.
On the other hand, electric ranges use smooth glass-ceramic cooktop or electric coils, which offer stable heat for all pans and pots. They are easy to clean and use. The drawback with these ranges is that they use extra electricity and cannot be operated during a power outage.
Installation
Choose the range which is easily installed and thoroughly check the measurements before buying the range as you might get in trouble later if the range is not of the appropriate size.
Heating Elements:
The heating elements in electric ranges are solid disks, spiral coils, magnetic induction, and radiant. Induction elements are highly efficient in comparison to the spiral coils.
However, you need to purchase aluminum cookware to indulge in advanced heating technology. The radiant elements and solid disk utilize more electricity as compared to the coil elements.
Cooking Power & Range:
Cooking power in the ranges is measured easily in BTUs. BTU stands for British thermal unit, which allows you to calculate the heat output. If your range offers high heat output, it's a good sign as it will enable you to cook food quickly.
If you are more of a saucy or a melting things chef, it's best to opt for a range that works well for finesse tasks.
Oven Capacity:
Oven capacity varies from one model to another. The larger models come with a more significant price tag. The oven capacity depends on how many family members you have plus how much you cook. If you are a baker or cook a lot, you need to buy the oven, which comes with 5.4 cubic feet. Other people, however, seem fine with buying ranges having 4.8 to 5.0 cubic feet.
The most popular ranges come in 30-inches width, or for smaller kitchens, there are 24-inch models. The prostyle ranges come in 30-inch, 36 inches, and 48 inches.
Features
Check out other features, like a temperature probe, control and door locks, automatic shutdown, preheat function, delay bake function, and much more to enhance your cooking skills. Moreover, check whether they feature smart control features like Wi-fi connectivity options, smartphone controls, and much more.
Self-Cleaning
Self-cleaning is a convenient feature that is present in mid-range prices. These ranges make the cleaning process straightforward. Plus, they are better insulated and are electric-efficient.
Design (30-Inch Free-Standing Vs. Slide-In 30-Inch)
Whether you invest in 30-inch free-standing or slide-in 30-inch, there is no such difference in functions between both these ranges. Both of them offer electric, gas, or dual-fuel options. Plus, they come with induction configuration options depending on the model range.
The difference is in their designs. The free-standing range comes with finished sides, so you can install it wherever you want. However, slide-in ranges, on the other hand, do not come with finished sides, so you need to install them between the cabinets to achieve a seamless look.
If you seek a stylish, modern-looking kitchen, then opt for slide-in ranges as they lack a backguard, and they blend well. The controls in this range are present on the front of the cooktop, which means you don't need to face the hassle.
FAQs for the Best 30-inch Ranges:
Who Makes the Best 30-Inch Gas Range?
Several brands offer the best 30-inch gas range, as we have discussed the products above. When we talk about gas ranges under $2000, you can opt for GE, Whirlpool, Frigidaire, Samsung, Bosch, and Kenmore. 
For mid-range prices, Whirlpool, GE, Frigidaire, LG, Samsung, and Maytag are popular brands.
What Is the Best 30 Dual Fuel Range?
A dual fuel range is the one that comes with the convenience of both electric oven and gas burners option in one. Although this range is popular amongst professionals or chefs, dual fuel ranges are perfect for home cooks.
The best 30 dual fuel range is the GE Cafe 30-inch slide-in dual fuel range that features a drop-in griddle plus six huge burners. 
Can I Use A 30-Inch Slide-In Range in A Free-Standing Space?
Yes, you can use a 30-inch slide-in range in a free-standing space if there is enough space and your free-standing roast range was placed in between the cabinets.
It's because the slide-in ranges don't come with finished sides, so you cannot place them anywhere in your kitchen. You need to install them in between the cabinets to allow them to work correctly.
Conclusion:
The top-pick from the best 30-inch ranges is the Frigidaire FFGF3054TD. It comes with five sealed burners, plus a simmer burner to cook delicate foods. Cook your meals faster now with this spacious range that also comes with the storage drawer. It is an exceptional range that offers easy cleanup and a marvelous cooking experience.
The runner up from the top pick is GE JGBS 30RESS. It is a perfect, budget-friendly solution that features four sealed burners and a simmer burner with enough capacity.
So shop your favorite best 30-inch range now and enjoy a gourmet-style cooking experience.