The 36-inch cooking ranges are quite versatile and can handle all kinds of recipes. We have been examining and reviewing a variety of cooking ranges for our readers both online and in-person. This is because we want our readers to buy the best products and get the most out of their money.
The best 36-inch range available on the market today is the Wolf GR364C. This cooking range comes with an oven capacity of 5.5 cubic feet and four double-stacked sealed burners.
It features a 6.6 cubic feet of total oven capacity and also boasts a ceramic glass top. The entire cooking range is made of stainless steel and goes well with your modern kitchen. Plus, it's an affordable double oven range too.
We have compiled a list of the best double oven ranges to assist you in your buying decision. We'll review them in detail and present you with some key points you must keep in mind when buying this type of cooking range.
So, read on to find about the best double oven ranges available on the market right now!
Top 36-Inch Ranges Reviewed
Product Image
Product Name
Oven Capacity
No. of Burners
Dimensions
Best For
More Info
Wolf GR364C
5.5 cubic feet
4
Width: 35 7/8-inch
Depth: 28 3/8-inch
Height: 37-inch
Best Overall
View latest price
Wolf M Series IR36550ST
6.3 cubic feet
5
Width: 35 7/8-inch
Depth: 28 1/4-inch
Height: 35 1/2-inch
Best Smart Induction Range
View latest price
Bosch 800 Series HGS8655UC
3.4 cubic feet
6
Width: 35 15/16-inch
Depth: 24 15/16-inch
Height: 36-inch
Best for Budget
View latest price
Bosch 800 Series HDS8645U
3.7 cubic feet
6
Width: 35 15/16-inch
Depth: 24 15/16-inch
Height: 36-inch
Best Duel Fuel Range
View latest price
Viking 7 Series VGR73626BFW
5.1 cubic feet
6
Width: 35 7/8-inch
Depth: 30-inch
Height: 37 9/16-inch
Best Gas Range
View latest price
Viking 5 Series VDR5366BFW
5.6 cubic feet
6
Width: 35 7/8-inch
Depth: 28 11/16-inch
Height: 37-inch
Best for Premium Quality
View latest price
Find the right 36-Inch Ranges for you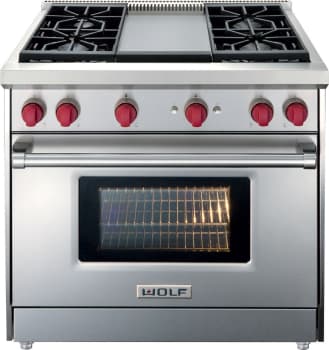 When it comes to large cooking ranges, Wolf has a significant competitive edge over other brands. These cooking ranges by Wolf are not only large but come with some prominent features.
The same is the case with this model as it comes with a professional-style look and features an oven capacity of 5.5 cubic feet. There are dual-stacked sealed burners in this unit, with the upper-tier designed to deliver maximum heat. You can use it for sears and boils.
The lower tier has burners that are for low and slow cooking for melting and simmering. These burners also come with spark-ignition sensors. That will reignite the burner if they detect that the flame has gone out. Therefore, you won't have to halt your entire cooking process with this feature.
The burner grates are made of cast-iron, and they have a porcelain, matte black finish. It means you can conveniently slide your cookware over them without lifting. The 5.5 cubic feet oven of this range runs on convection technology. It makes sure your food is conveniently cooked from all sides without any hot spots.
The cooking range also features an infrared broiler that can produce up to 18,000 BTUs. You can easily make those crispy stakes or sear them just like how you have them in restaurants. Infrared heat generates more energy and increases the cooking times significantly faster than other forms of heat.
The range has stainless steel construction and Wolf's signature red-colored knobs for accurate temperature control. Besides that, the legs of this unit are also adjustable to ensure stability.
Pros
Fully adjustable legs.
Durable stainless steel construction. 
A separate infrared broiler. 
The oven runs on convection.
Continuous burner grates. 
Auto-reignite spark ignition. 
Dual-stacked sealed burners. 
Cons
Nor automatic shut off or hot-surface indicator. 
It only comes with 4 burners.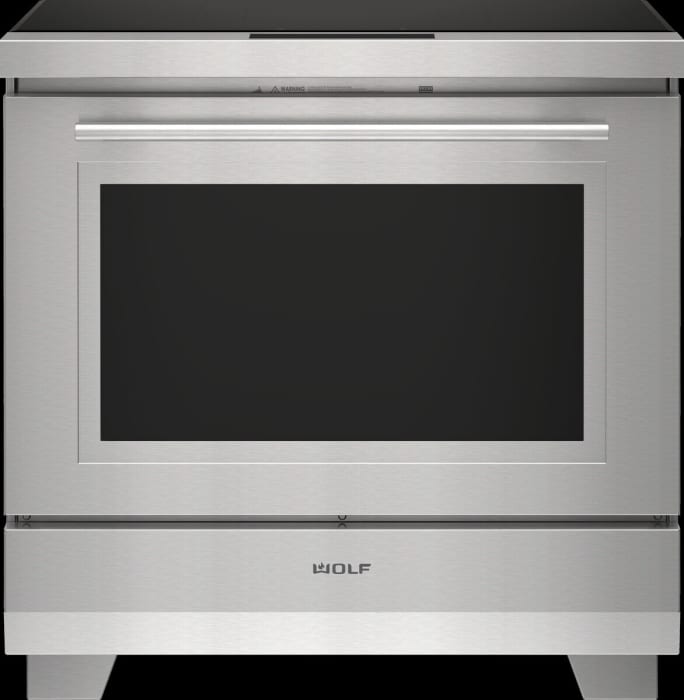 This is the best induction smart range you will find in the 6-inch model sizes. As it's a smart cooking range, therefore, you can conveniently connect with your home wifi and use different features remotely. You can also select different cooking modes on it with this feature and adjust oven temperature with your smartphone's help.
The cooking range comes with an oven space of 5.3 cubic feet, and it has Wolf's signature Dual VertiCross feature. With it, the oven can cook your food at even heat with reduced hot spots. No matter which racks you are using, the results will be consistent.
Moreover, this cooking range also comes with bridge functionality and combines two different induction zones into a larger one. With this feature, you can use the induction-griddle, fish poacher, and open roaster.
What's more here is this cooking range also features a self-cleaning system. It allows you to cook more and clean less. There is a boost mode that can deliver high heat and allow you to broil or sear any type of food with ease.
That's not all!
The cooking range also has a gourmet mode. It allows you to choose any of the 50 preset settings and get the best results in each of your dishes. Apart from that, there are ten different cooking modes that you can use to create the perfect environment and conditions in which your dish will cook.
The range also features touch screen controls that are very easy to use and intuitive in design. Cleaning becomes much easier this way too. It also features a ceramic glass surface that can resist staining, or scratching and you can conveniently use wipes on it.
Pros
High-quality stainless steel construction for durability. 
The ceramic glass surface of this range is effortless to clean. 
Intuitive touch screen controls. 
10 different cooking modes and a Gourmet Mode. 
Boost mode for searing and broil. 
Bridging functionality. 
Dual VertiCross convection oven. 
Smart connectivity with wifi.
Cons
No finish options available.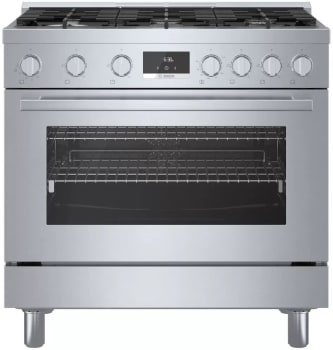 This 36-inch cooking range by Bosch has a freestanding design, and it comes with an oven capacity of 3.4 cubic feet. This cooking range might not be too big in the oven capacity department, but it comes with six burners.
These burners are powerful, and you will get plenty of performance from them no matter what type of dish you are cooking. Its oven can also accommodate multiple dishes at once. On the top, there are continuous grates that move your cookware with ease.
This model also features self-cleaning, and you won't have to scrub anything to get the debris off or deal with any foul smell. The grates are entirely dishwasher safe too. There is a power burner that features a dual-flame ring design, and it allows you to cook food with two different heat options (broil and low & slow).
The rack present inside the range's oven has a telescopic design and can extend conveniently access the oven cavity. Its door also closes softly with dampened hinges, and there are heavy-duty metal knobs that will stand the test of time.
For an integrated look, this cooking range comes with a low-profile construction. This range does very well because it comes with a huge oven door window to conveniently monitor the cooking progress.
Pros
Comes with an LP conversion kit. 
Low-profile construction. 
Quality metal knobs. 
Dampened hinges that don't make noise. 
Double-flame ring burner. 
Telescopic rack in the oven.
Cons
3.4 cubic feet is on a bit of a lower side for a 36-inch cooking range.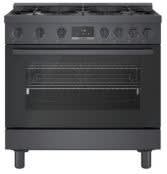 If you are looking for the right price-feature balance, you need to go for this cooking range by Bosch. It not only is the best value for money option for you to consider but is also the best dual fuel cooking range in a 36-inch size.
This cooking range comes with 6 sealed burners, and the oven capacity is 3.7 cubic feet. The cooking range features European convection technology and comes with continuous grates that are dishwasher safe. It also comes with a double ring burner and has a finish that is resistant to fingerprints. The oven rack features a telescopic rail, and the black finish of this model looks chic.
As mentioned above, this cooking range has European convection technology. It makes sure you don't get to deal with any hot spots in your finished dishes. Your foods are cooked evenly from all sides, and they taste brilliant.
The cooking grates are dishwasher safe and are easy to clean because they are dishwasher safe. It also features Bosch's signature double ring burner that allows you to cook at high heat. Plus, it is equally efficient when it comes to low and slow cooking.
As this model comes with a black finish, it is entirely resistant to fingerprints. Therefore, you can conveniently maintain the bold look of your cooking range without much maintenance. Its oven features a fully extendable telescopic rack with rail and is easy to access and place your foods while using the full space available.
Pros
European convection technology for even cooking from all sides. 
Cooking grates are continuous.
Dishwasher safe. 
The double ring burner allows you to sear food.
You can cook at low temperatures. 
The black matte finish is resistant to fingerprints. 
Telescopic rail design for easy food placement. 
Cons
Relatively small oven capacity.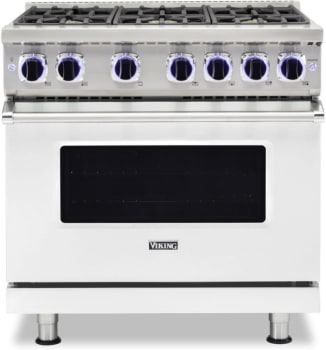 As you can see, finding a good variety in available finishes can be tough in this size category. But Viking has got you covered here because it provides many finish options in all its ranges. And you will find the best one according to your requirements.
This cooking range features a freestanding design, and there are 6 sealed burners with a 5.1 cubic feet oven capacity. The cooking range comes with Viking's signature Elevation burners. It features brass flame ports that can effectively deliver a powerful flame for searing, caramelizing and various other low heat cooking needs.
It also features a VariSimmer setting in its burners to provide gentle heat when you are going for low and slow cooking recipes. The burners also feature a SureSpark ignition system, which can automatically turn on itself if it goes out. This won't stop the cooking process at any stage.
You can also include the ViChrome griddle accessory that you can interchange with the griddle that comes with it for versatility in cooking and easy cleanup. With GentleClose, this cooking range's door will not slam, and your food items won't get disturbed inside.
The extension racks also come with TruGlide technology, and you can easily remove any of that heavy bakeware. Six different cooking modes allow you to use convection defrost; convection dehydrates, infrared broil, convection IR broil, convection bake, and natural bake your food items.
You can also use the Gourmet Glo feature to produce intense searing to lock in those savory juices. The grates also have a continuous design to make sure you can conveniently move around your pots and pans from one burner to another.
Pros
6 different cooking modes. 
Gourmet Glo IR broiler for intense searing. 
Easy gliding extension racks. 
The door closes very gently. 
Automatic igniting Elevation burners with VariSimmer setting.
Cons
No self-cleaning or steam cleaning features.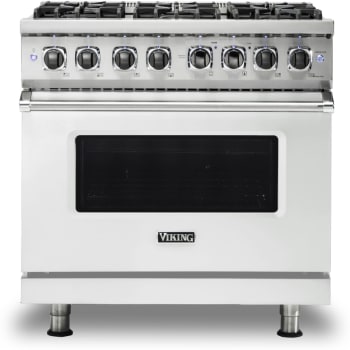 This premium quality 36-inch cooking range by Viking comes with some extraordinary features. You will notice that it comes with a massive price tag on it, but it won't disappoint you with what it has to offer as well.
This cooking range features a pro-sealed burner system that can produce heat anywhere from 15,000 BTUs to 18,000 BTUs to cater to a range of different cooking requirements. And of course, it also features Viking's unique VariSimmer setting with which all the burners of this cooking range can provide a gentle and steady flame for convenient simmering.
Just like the previous model, this one also features a SureSpark ignition system. It will automatically reignite if the flame goes out. Therefore, the cooking range will not allow the cooking process to halt.
It also features a Dual Flow Vari-Speed convection system with an 8.5-inch fan that can work by-directionally to ensure maximum airflow and brilliant cooking results. This cooking range also has a 10-pass double bake element that is hidden. It makes cleaning simple and ensures accurate temperature control.
There is a 10-pass broiler that comes with a heat reflector along with the Rapid Rady preheating feature. It will keep your food ready when you are ready to devour it.
Moreover, there are BlackChrome knobs. GentleClose door, SoftLit light, TruGlide extension rack, and many other features that this cooking range comes with. It comes with a hefty price tag on it and backs it up with a long line of features.
Pros
Self-clean porcelain oven. 
Various cooking modes. 
Easily extendable racks.
5.1 cubic feet oven capacity.
A hidden baking element for easy cleaning. 
Durable cast-iron grates.
Cons
No delay-bake or keep-warm features. 
Best 36-Inch Ranges Buying Guide
The 36-inch cooking ranges don't come cheap by any stretch of the imagination. You can comfortably compare them with any commercial-grade cooking range out there on the market.
To choose the best option according to your needs, you need to keep in mind when looking for this size.
Size
Make sure you go for the right size because that is going to be key. You must take your kitchen measurements carefully. You also need to read the instructions carefully so you don't end up dealing with the misfits after spending a considerable chunk of money.
The issue of misfits is not that rare. Therefore, you have to be very careful here. Carefully go through the dimensions to ensure you don't end up returning your range just because it didn't fit. It will save you a lot from wasting your time.
Styles
36-inch ranges are available in a variety of styles. You can either go for a slide-in model, or you can go for a freestanding one. You will also find double oven ranges in this category.
Slide-in models are better suited to contain spills because they have raised edges, and you can make them look modern or traditional according to your preferences due to their construction. The freestanding ones are better because they can fit in well in those tight cabinet spaces.
Plus, they can stand on their own, and you won't even need a wall behind them for support. So, they are better suited for island-designed kitchens. Double oven ranges are there two, and they have two different oven compartments so you can cook a variety of different recipes simultaneously.
Total oven capacity
As these are massive units, you will get plenty of oven space here. These units will come with anything over 4 cubic feet comfortably. The double oven models will have up to 7 cubic feet as well.
You can choose the right oven capacity according to your requirements and preferences. For instance, if you have a large family, then a large cooking capacity will work well for you because you can simultaneously cook different recipes.
Gas vs. electric
Some units of this size are powered by gas, while others run on electricity. You can also go for dual fuel ranges if you like. But the options will be limited. Gas-powered models are excellent because they can cook food super-fast with high temperatures in no time. You can cook a range of different recipes with them.
On the other hand, electric ranges are excellent because they are more accurate in temperature control. Plus, you can use some modern features such as auto shut off and hot surfaces, indicating light on them and safer to use. But choosing between them can be a personal preference because they work fine.
Number of burners
As these are large units, therefore, you can conveniently find 5-burner and 6-burner designs. In most cases, five burners will suffice for home use, but you can always go for one more burner if you want.
These burners also vary in terms of their BTUs (gas) or wattage (electric). In most cases, you will find a high heating burner, a low and slow cooking burner, and others to cook more dishes simultaneously.
Additional features
As you are spending a lot here, you don't have to be defensive and compromise on some features. When you are spending this much, you shouldn't settle for less.
Look for some safety and quality assurance features like CSA certification, California Prop 65 certification, ADA compliances, fire safety, auto shut off, dual fuel kits, easy cleaning, dishwasher safe parts, and of course, a durable construction.
FAQs for the Best 36-Inch Ranges
Are gas ranges not safe as compared to electric ranges?
Electric ranges are safe to use because they come with some automatic features that will shut them down if they are not in use, saving your bills in the process. 
Some models also come with a hot-surface and hot-oven light indication so that you can be more careful. If you want to go for a gas range, make sure you look for CSA certified for safety.
What is meant by BTUs and wattage?
When you look for a cooking range, you will see its BTUs or wattage in the spec's sections. BTUs refer to British Thermal Units and tell you about the amount of heat a gas burner can produce. For electric burners, the measuring unit is wattage.
Which is cheaper, a gas unit or an electric unit? 
A gas unit is much cheaper on any day and with any amount of use than an electric unit. Because gas is way cheaper than electricity, apart from that, gas is also far more energy-efficient than electricity when it comes to cooking. 
Conclusion:
The winner of this roundup is the Wolf GR364C. Even with a 36-inch design, it manages to keep things compact well. There is an IR charbroil grill along with an IR broiler. There are red control knobs, and the island trim design makes sure it fits extremely well. This design is Star-certified.
The runner up is the Wolf M Series IR36550ST, which comes with smart connectivity features. This induction cooking range comes with an oven capacity of 6.3 cubic feet and has 5 different induction zones. It also comes with a bridge element, a quick heat mode, a gourmet mode, touch screen controls, ceramic glass top, and everything you will need to have in your modern cooking range.